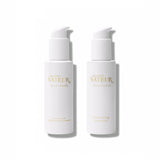 Agent Nateur
lactic acid cleanser duo
Refresh fatigued skin with our two-step cleansing process formulated to gently exfoliate, tighten pores, and expose a healthy, ageless radiance. Our holi (cleanse) and acid (wash) work together to emulsify dirt, oil, and makeup while clarifying the skin, refining texture, and alleviating dryness. Made with only the finest ingredients, these unique formulas contain luxury oils and organic plant extracts thoughtfully selected for their potency, purity, and quality of origin. To protect tender skin, we've included a soft muslin cloth for effortless, scrub-free removal.
Skin Concerns:
fine lines and wrinkles

clogged pores

redness due to dehydration

dull, uneven skin tone
inconsistent skin texture
loss of elasticity
age spots and dark circles
scarring
dryness
MAIN INGREDIENTS
Lavender flower water

contains natural properties that transform the appearance of skin. It absorbs easily to clean and tighten pores while calming redness caused by dehydration.
Aloe leaf

is rich in vitamins, minerals, amino acids, and antioxidants known to heal dry skin. Its rehydrating qualities visibly plump mature skin, replenish the moisture barrier, and diminish the appearance of acne scars.
Peony root extract

offers antioxidant benefits that reduce the appearance of premature aging. This nourishing botanical fosters brighter-looking skin, increases firmness, and soothes dryness.
Lactic acid

is a gentle exfoliant that dissolves dead skin cells without irritation. This natural acid washes away dullness to reveal youthful-looking, firm, luminous skin.
Oryza sativa

is Japanese rice bran oil that is rich in vitamins E and B, omega 9, and fatty acids. With an earthy aroma and a weightless finish, this youth-enhancing oil effortlessly lifts dirt, makeup, and oil while nourishing and hydrating the complexion for a natural glow.
Pitaya

is rich in antioxidants that restore the youthful-look of skin and reduce visible signs of aging. This nourishing fruit's high vitamin C content brightens the complexion's appearance while its organic proteins and enzymes boost hydration, leaving skin soft and supple.
Date seed extract

has calming antioxidant properties that soothe dryness, boost skin elasticity, and reduce the appearance of fine lines, age spots, and dark undereye circles.
Calendula and chamomile extracts

, both derived from organic florals, have been shown to relieve skin conditions due to dryness and increase skin's firmness
*Agent Nateur products are Ecocert organic certified and compatible with even the most sensitive skin.
 each bottle is 120ml
Use twice daily in morning and evening skincare rituals. In the morning, begin by using acid (wash) and rinse with warm water. Follow with holi (cleanse) and the holi (trinity). At night, if not wearing makeup, follow the morning protocol. If wearing makeup, begin by using holi (cleanse) and follow with acid (wash). Cleanse again with holi (cleanse) for extra hydration.