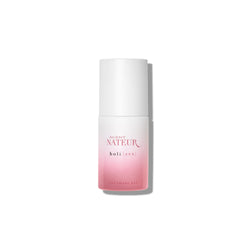 Agent Nateur
h o l i ( s e x ) intimate oil
Revere your most intimate areas with holi (sex), formulated to hydrate, warm, and enhance intimacy. Ambrosial fruit and floral oils support sensuality by radiating an aphrodisiacal aroma. Use on one's own, with a partner, or after bathing to alleviate dryness anywhere on the body.
*holi (sex) is not compatible with latex condoms
MAIN INGREDIENTS
Coconut oil

is an organic oil that has been clinically proven as a safe and effective lubricant. Known for its hydrating benefits, this natural extract helps make intimacy more sensual.
Sweet almond oil

contains vitamins and nutrients that hydrate and lubricate. This edible emollient tingles and warms the skin while offering long-lasting moisture and pleasure.
Rose and jasmine oil

are commonly used in aromatherapy to open the heart chakra and cultivate feelings of self-love, acceptance, and compassion.
Sandalwood oil

has an earthy aroma that promotes calmness and harmony while supporting the third eye chakra and fostering deeper connection with the self.
Vanilla oil

has a sweet aroma that is believed to be a natural aphrodisiac as it may lower the feelings of stress and relax the body.
*Agent Nateur products are Ecocert organic certified and compatible with even the most sensitive skin.
cocos nucifera (coconut) oil, prunus amygdalus dulcis (sweet almond) oil, rosa centifolia (rose) oil, jasminum sambac (jasmine) oil, santalum album (sandalwood) oil, vanilla planifolia fruit oil.
Apply half a dropper to intimate areas to increase stimulation, comfort, and lubrication. With all-natural ingredients and fragrances, holi (sex) is safe for use on any part of the body, even the most precious, sensitive skin.
suitable for all skin types

not compatible with latex