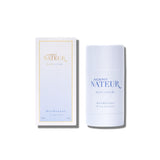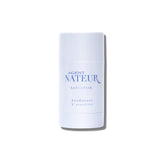 AgentNateur
h o l i ( s t i c k ) sensitive deodorant
Newly reformulated and more effective than ever, our gentle, sensitive, supportive and strong formulation now pairs perfectly with new-additions, - a clinically-backed, trademarked, extract hailed as 'nature's ultimate antiperspirant' and Cleavers Extract. The updated formulation supports less sweat, less odor, less toxins and more power. 
Remaining all natural, aluminum-free and baking-soda free this soft yet rich balm, handmade with nourishing oils and butters, gently melts upon contact with the skin, leaving a hydrating surface layer that soothes dryness, alleviates irritation and nurtures skin damaged or irritated from shaving, waxing or sweating.
With sensual, natural notes of Sandalwood Mysore, Coconut and Jasmine, this unique, sensitive formulation remains perfect for even the most sensitive skin types and delivers a gorgeous, balanced fragrance with notes of flora and spice that help you to keep fresh, dry and odor-free all day naturally.
Perfect for even the most sensitive skin, the formulation is non-greasy and non-sticky, the sensitive formulation rubs on clear, leaving no white marks or yellow stains on you or your clothes.
MAIN INGREDIENTS

Leucojum Aestivum Bulb  - a trademarked,

natural, aqueous ingredient known as

nature's antiperspirant has been clinically proven to reduce perspiration by 36%, to slow muscle contraction within the armpit and to

help control wetness by absorbing moisture.

Cleavers Extract - a newly added herbal extract with the natural ability to function as a powerful deodorant to reduce sweating, excess odor or moisture.
Coconut oil - an anti-bacterial nourishing oil that contains a unique combination of fatty acids recognized for their health benefits. Powered by lauric acid, known to soothe dryness and restore the skin's natural bacterial balance to reduce odor, coconut oil helps to reduce underarm bacteria, leaving you refreshed and clean smelling.
Avocado butter - produced from the flesh of the avocado fruit it offers nature's purest vitamins, minerals, and fatty acids. This rich balm melts upon contact with the skin, leaving a hydrating layer with a velvety finish
Non-nano zinc oxide - a gentle mild astringent with natural cleansing properties. This alternative to aluminum calms irritation due to shaving and eradicates under arm pathogens that cause odor.
Arrowroot powder - rich in essential minerals including potassium and calcium and is commonly used to absorb oils. When applied to the skin, this natural ingredient reduces odors and hydrates.
Sandalwood oil - commonly used in aromatherapy rituals. Its earthy aroma promotes calmness and harmony while supporting the third eye chakra and fostering deeper connection with the self.
*Agent Nateur products are Ecocert organic certified and compatible with even the most sensitive skin.
cera alba (beeswax), organic cocos nucifera (coconut) oil, (avocado) fruit butter, candelilla wax, persea gratissima (avocado) fruit butter, helianthus annuus (sunflower) seed butter, ricinus communist (castor) seed oil, magnesium hydroxide, non-nano zinc oxide, zinc ricinoleate, maranta arundinacea (arrowroot) powder, galium parine, glycerin, leucojum aestivum bulb, natural fragrance**
**derived from essential oils, absolutes and isolates
Apply 2-3 swipes to clean underarms and re-apply throughout the day, if needed. This product is highly concentrated and should not stain clothing so long as the proper amount is used. If you do experience staining, use less product or blot underarms with a dry washcloth after application to remove excess.
If you have a history of sensitive skin, perform a spot test on the inside of your wrist for 2 to 3 days prior to using. Shave armpits in the evening to prevent irritation.
Jena's Notes: For sensitive skin, shave the underarms the night before applying. Plus, a little goes a long way. If your shirts are getting stained, it's a sign you're using too much. Use less product and blot the underarms with a dry towel before getting dressed.